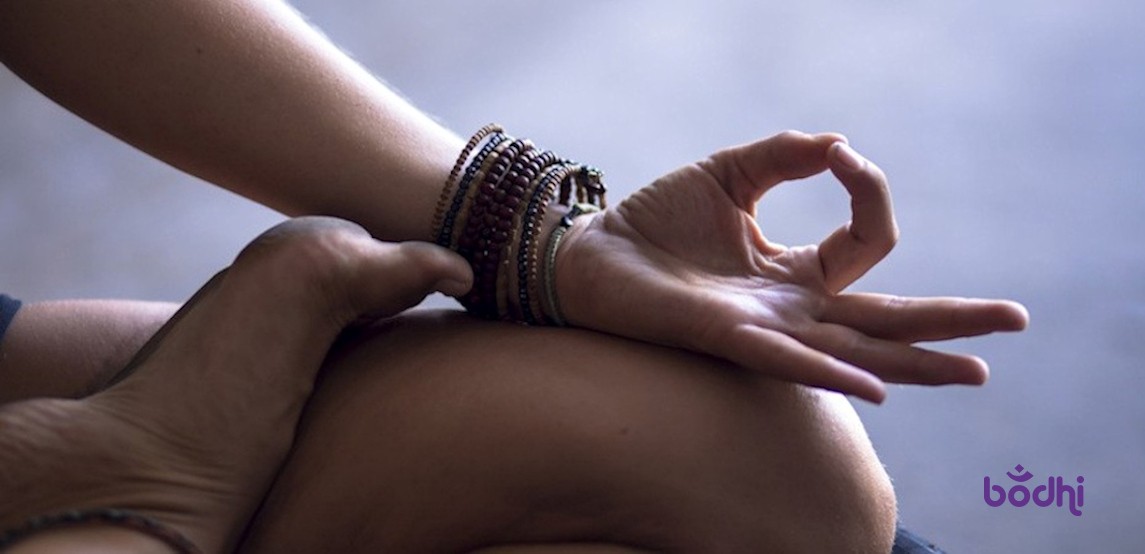 Bodhi Yoga products United Kingdom
Bodhi Yoga has a wide range of Yoga, Meditation, Pilates and Wellness products, as well as a special collection of yoga clothing for women and men. Through the unique webshop Yogitri, you can be assured of a reliable and fast delivery that is also traceable.
Discover the high-quality and advanced products with all their specific qualities that can be of added value to get the best out of your meditation or yoga exercises.
Bodhi Yoga Assortment

Yoga Mats
Choosing the right yoga mat
You may discover that there are many different yoga mats. If you do not know much about it yet, choosing the right yoga mat is a big challenge. Yoga mats come in different thicknesses, lengths, materials and last but not least, colors and design. How do you choose? Below you will find an explanation of the materials, thicknesses and dimensions. This can help you find the yoga mat that best suits you, your yoga style and wishes.

Material Yoga Mats
PVC Yoga mat
Most yoga mats are made of PVC, also called Sticky Yoga mats. These mats have a good grip, so that you do not slip away in a yoga posture, and the mat stays well on the floor. There are many different qualities in PVC mats. A good quality PVC yoga mat is suitable for all yoga styles, has a long lifespan and some of these mats are virtually indestructible. An advantage of this type of yoga mat is that it can be washed in the washing machine. PVC yoga mats become increasingly stiff with longer use, this means that your yoga mat gets more grip and is therefore finer in use.
TPE Yoga mat
Do you prefer an environmentally friendly Yoga mat, then perhaps a TPE mat more that suits you. A TPE (Thermo Plastic Elastomer) is a combination of plastic and rubber. These Yoga mats are free from harmful substances, hypoallergenic and is 100% biodegradable. This yoga mat has good grip. TPE is softer than PVC yoga mat, which offers more comfort in sitting and reclining yoga postures, These Yoga mats fit well with Yoga styles such as Yin yoga and Kundalini Yoga. Because it is softer, balance postures are a slightly bigger challenge. Due to the open cell structure, the yoga mat will have a shorter life span with active forms of Yoga such as Ashtanga, Power, Vinyasa Flow and Hot Yoga.
Natural Rubber Yoga mat
made of natural rubber are naturally an environmentally conscious choice. Natural rubber is sometimes also processed with another material such as cotton or jute. These yoga mats have a very good grip, even with moist or perspiring on the palms and feet. Nature rubber yoga mats have a longer lifespan than TPE, but wear out with intensive forms of Yoga. One hundred percent natural raw material is sustainable for the environment, this type of yoga is slightly less durable in terms of lifespan. Natural rubber has a 'specific' smell that does not completely disappear. Take this into account. A natural rubber yoga mat is ideal in grip and comfort.
Other Materials Yoga mat
Bodhi yoga has also made yoga mats made of other materials such as cotton (traditional yoga back), as well as new quality plastics that are more durable and therefore provide a different comfort. These specific properties can be read with the product.

Dimensions and Thickness of a Yoga Mat
The standard dimensions of a yoga mat in Europe is 1.83 cm long and approximately 60 cm wide. Bodhi has also developed yoga mats for longer people with a length of 2.15 cm. Yoga mats extra wide of 80 cm have the advantage that you have more room to move.
Yoga mats come in thicknesses ranging from 2 mm (yoga trip mat) to 10 mm. The most commonly used yoga mats are between 4 and 6 mm thick. Which thickness is the most suitable? That depends on a number of factors. For example, 4 mm mats are more stable with standing and balancing, 6 mm yoga mats provide a little more and are more comfortable. These are fine with sitting and lying postures. Thin yoga mats and / or stiff yoga mats are often perceived as better with ordered yogi, and with less experienced people it may feel more sensitive to the feet.
Also the yoga style is an important factor. With which the yoga teachers naturally have experiences. And can give personal advice. You can also decide for yourself what works best for you and especially what is best for your body.

Design of yoga mat
The design of a yoga mat is personal. You probably want to use your yoga mat regularly, so the mat may of course suit your personal taste. Yoga mats come in many colours and some even have a print. Consider choosing a color and / or print that makes you happy and relaxed.

Yoga Accessories
There are many accessories that improve yoga exercises, if you are not flexible enough a yoga block or a yoga belt will extend your body so that the yoga posture is feasible to perform well. Yoga bolster and yoga balls are made to open the body more. There are many articles that can be a good contribution. You can find the yoga range with us.


Meditation Accessories
Do you want to know which meditation accessories are available? And which meditation products can be an enrichment to deepen or facilitate your meditation in order to adopt the right attitude?

Meditation Cushions
On a meditation cushion, also called zafu's, it is better for a long time to be able to stay upright in the right way. because a meditation cushion forms with your sitting posture, which ensures a more comfortable sitting, and the breech height and pelvis ratio is good, so that the entire back can remain as straight as possible. so that you can focus your clarity of mind on your meditation.
The advantage of a personal meditation cushion is that you support your meditation not only physically but also mentally, where you have personal energy.
When you regularly sit on the same meditation cushion, you program it yourself with the attribute for both body and mind on meditation. The self knows in no time that it is time for meditation. Silence, concentration and depth of your meditation then start faster than when you meditate in a different way every day.
The shape of a meditation cushion
Meditation cushions are available in different shapes, heights and sizes with different colours, symbols or patterns.
How do you choose a meditation cushion suitable for you?
A meditation cushion provides solid support and should have the right height for your body length. Bodhi yoga and Yogitri meditation cushion are made of a hardwearing material, and the outer cover is easy to wash.
A not too heavy, but firm filling is very important. Not entirely unimportant: choose a pillow that you like and that fits your meditation place. It will motivate and support you more regularly to meditate.
The meditation cushions of Yogitri are only filled with organically grown buckwheat chaff. Buckwheat has hard skins that are dark brown in color and round the seeds. The chaff is actually the residual product of the harvest of buckwheat. This chaff is a very suitable filling material for meditation cushions. The shape and weight of the chaff creates an excellent strength without being too heavy and does not lose its resilience.

Types of Meditation Cushions
Round Meditation cushion
These are also called Rondo or Zafu. The standard height is between 12 to 17 cm. The perfect height of a meditation cushion is body dependent, depending on your height and meditation technique. Is your meditation posture in a cross-legged pose or a lotus posture.
In the lotus position, and if you have been practicing meditation for a long time, a low meditation cushion is usually the most suitable.
The height of a meditation cushion can be lowered by removing some buckwheat chaff from the pillow. You pull out just as much until the pillow has your ideal height. On these cushions you can sit in Easy Pose, Lotus position and in Seiza (legs on both sides of the pillow). If the cushion feels too low, a tip is to put it on its side or place two cushions on top of each other.
Half Moon Meditation Cushion
As the name implies, these meditation cushions have the shape of a Half Moon. These are usually somewhat lower and wider than the round meditation cushions. Only suitable for cross-legged sitting and lotus position and then gives more support to the thighs and ensures a pleasant tilting of the pelvis.
Zabutons
The Bodhi Zabuton has a rectangular or square shape, the meditation undercushions are filled with kapok and the lesser qualities with foam. The zabutons from Yogitri are filled with thick layers of raw cotton, surrounded by a cotton inner cover made of unbleached cotton. The outer cover is made of high quality cotton which is durable and colourfast. Moreover, washable well. The meditation mat can be used on its own for your meditation, but it is advisable to combine it with a meditation cushion or meditation bench.
Meditation Benches
Meditation benches are usually made from sustainable wood types. Meditation benches provide a comfortable sitting position that protects the knees and keeps the back straight. A meditation bench is not adjustable in height, and is mainly suitable for people between 1.65 and 1.80 cm. Meditation benches are made for the Seiza seated posture, the Japanese sitting posture from the Zen meditation.

Yoga Clothing
What do you pay attention to when buying yoga clothing?
Yoga clothing is preferably made of a natural material that breathes well and can often be washed. The fabric should be elastic so that it stays in shape during the yoga exercise and should not pinch anywhere. The preference among many yogis is that the yoga clothing is not too wide and does not shift during the exercise, otherwise usually distracts. Most women like it when a yoga top at the front closes a little higher, so that it also stays comfortable during over bends and inverted postures. Finally, the preference is for a yoga top built-in cup so you do not need an extra bra underneath.
Bodhi Wellness Products
Wellness products to relax in a home environment
Hammam soaps and scrub, massage gems, candles, netipot, face creams, body lotions, various wellness accessories and ayurvedic care products. With these wellness products Bodhi offers all possibilities to transform your own bath or bedroom into a wonderful spa environment. Here you feel completely at home and can enjoy in harmony. Pleasant body care brings rest and relaxation in the head and body.
Our wellness products are pure, honest and natural
We are inspired by the power of nature. Our products are good for body and soul. All with their own unique, beneficent effect. Natural care products that ensure that as many people as possible can enjoy the pure products of Mother Nature every day.